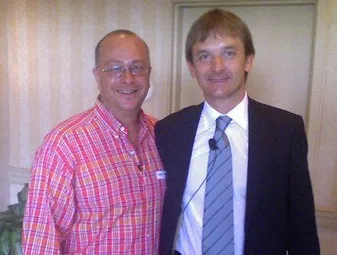 Biopuncture technique uses tiny needles to inject natural medicine or nutrients into acupoints or trigger points. It can also be used to inject the points superficially. Biopuncture stimulates injury healing. It is also great technique for applications of natural medicines to help with aging skin.
Biopuncture also helps with pain reduction and down regulating inflammation. This technique is also referred to as biomesotherapy. The term "biopuncture" was coined by Jan Kersschot, MD, a physician from Belgium in 1991. Dr. Denny has received advanced training from Dr. Kersschot. The picture on this page was taken of Dr. Denny and Dr. Kersschot at an advanced Biopuncture training in Miami.
Generally multiple injections are given in a single treatment session. If facial rejuvenation is provided, several injections will be given to the acupoints on face, etc. So in most cases, several small injections are given in a specific part of the body with each treatment visit.
The greatest aspect of undergoing Biopuncture Injection Therapy in Davie, FL, is that there is no down-time and no recovery time is necessary. Most patients experience noticeable changes within the first visit, but 6 or more treatments may be necessary. "Booster" treatments may be necessary depending on the condition. In regards to treating an area of pain, results can be also be seen within several treatments.