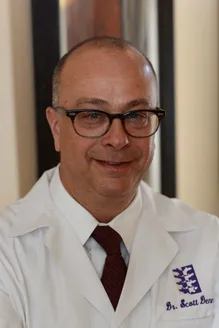 Scott Denny, PhD, MS, LAc, Dipl Ac & NMT, FAAIM, DAAPM
Dr. Denny holds a Bachelor of Science degree from Excelsior College, and a Bachelor of Professional Studies and Master Science degree from Tri-State College of Acupuncture (TSCA) in New York City. He also holds a Ph.D. in Electromedical Science from City University LA, and has had the honor of being the past President of American Academy of Pain Management (AAPM). Dr. Denny is a 1984 graduate of the New York Chiropractic College and is past faculty of New York Chiropractic College, and is a founding Trustee of the University of Integrated Studies.

He is a past member of the AAPM Board of Directors, and AAPM Board of Advisors. He has served on numerous AAPM committees including; membership, education, planning, scientific posters, certification standards, examination writing, utilization, Pain Program Accreditation (PPA), and the technology and integrative medicine committees. Dr. Denny has also served on the Editorial Advisory Board for the textbook publication: Pain Management: A Practical Guide for Clinicians.
Dr. Denny is a former head of acupuncture services at Holy Cross Hospital Feldman Center for Optimal Health. He is the inventor and developer of Dodai Fusion Therapy.
Dr. Denny is an eleven time recipient of the Continuing Education Excellence Award in Pain Management. He has also received the 2007 Outstanding Acupuncture Associate Award from The Zachariah Family Wellness Pavilion at Holy Cross Hospital. He is certified in many other areas including: homotoxicology/homeopathy, functional medicine, lifestyle medicine, cosmetic acupuncture, and laser techniques.
Dr. Denny has lectured nationally and internationally on numerous topics including; spinal decompression therapy, surface electromyography in soft tissue injury assessment, manual medicine assessment and management of whiplash injury, biopuncture in the management of aesthetic conditions, biological medicine in complementary care, acupuncture in pain management, and Dr. Denny is FAME Program Certified (Fibromyalgia Assessment, Management and Education).
Dr. Denny holds several certifications including a Diplomate in Pain Management, a Diplomate in Acupuncture from the National Certification Commission for Acupuncture & Oriental Medicine (NCCAOM), and a Diplomate from the American Association of Integrative Medicine's College of Acupuncture & Neuromuscular Therapy. Dr. Denny externed at the Sidney Hillman Center, Institute for Urban Family Health, an outpatient facility affiliated with Beth Israel Hospital while attending Tri-State College of Acupuncture. In addition, he has also worked with the Center for Positive Connections, an HIV support and resource center in Miami.
Dr. Denny also served as an advisor to The Health and Wellness Center, Inc., a not-for-profit resource and outreach center for patients suffering from chronic illness and disease. Dr. Denny is a Fellow of the American Association of Integrative Medicine. He is a past Clinical Research Fellow of the Institute of Pain Management and contributed data to the National Pain Data Bank (NPDB). He is a past member of the Board of Directors of the Florida State Oriental Medical Association. He is a member of the International Society of Homotoxicology and Homeopathy, the American Society of BioRegulatory Medicine. He is a founding member of the Board of Directors of the Laser Pain Management Association, an organization founded to improve techniques and clinical outcomes with the MLS M6 Robotic Laser.
Dr. Denny has received post graduate training and certification in Acupuncture Injection Therapy (AIT) from the East West College of Natural Medicine in Sarasota, Florida. He has received his certification in traditional mesotherapy from the American Academy of Aesthetic Medicine. Dr. Denny's current practice focus is combining integrative medical treatments such acupuncture and oriental medicine in pain management, the treatment of complex health conditions with natural medicine, advanced nutritional techniques, electroanalgesia, and regenerative medicine treatment. In addition, Dr. Denny is the co-founder/co-developer of the Antalgic-Trak spinal decompression system, and the technique called Kinetic Decompression Mobilization (KDM). He and his partner Dr. David Bass have traveled the world lecturing, training doctors and therapists on the use of this medical device.
---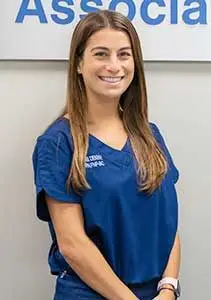 Justine Denny, DNP, APRN, FNP-BC, APHN-BC
Dr. Denny is a caring Family Nurse Practitioner specializing in primary care with an integrative approach. She completed her Bachelor of Science Summa Cum Laude in Psychology with a minor in Family and Child Sciences at Florida State University, and additionally, completed a Bachelor of Science in Nursing Summa Cum Laude at Florida Atlantic University. She then further went on to attend Florida Atlantic University completing a dual degree program attaining both a Master of Science degree in Nursing Practice and ultimately, a Doctoral degree in Nursing Practice. Justine is board certified as a Family Nurse Practitioner and board certified as an Advanced Practice Holistic Nurse, focusing on quality holistic primary care with a patient-centered approach.
Dr. Denny has completed extensive clinical experience in family practice, dermatology, women's health and pediatrics. Dr. Denny is passionate about holistic care coupled with a conventional medical approach. She strives to build and maintain positive and trusting relationships with patients. Ultimately, she does not focus solely on patients' symptoms but the person as a whole, supporting healthy lifestyles and overall well being.
She has authored multiple DNP Scholarly Projects and Manuscripts including: An Evaluation of a Diabetes Self- Management Education Program in a Community Health Clinic, which was completed in association with Broward Health's Cora E. Braynon Family Health Center in Fort Lauderdale, FL.
Dr. Denny has completed training in Science Based Nutrition (SBN), a nutrition program based on the analysis of laboratory studies to determine the best course of action for patient health transformation. SBN can be used to treat many existing conditions from simple nutritional deficiencies to complex chronic health conditions and can also indicate patient progression towards serious illness or disease. Dr. Denny is also certified in Regenerative Medicine procedures including PRP, stem cell and exosome procedures, intravenous vitamin therapy, and intravenous ozone therapy.
Dr. Denny joins Integrative Hospital Associates as a very qualified care provider and expands on the services provided by her mentor and father's successful practice.
---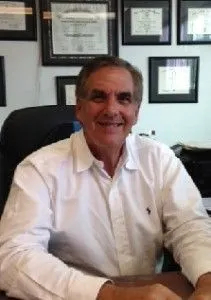 David Paul, MD, DABFP
Dr. David Paul maintains his own private practice in Pain Management, Medical Detoxification, and Family Medicine in the Pompano Beach and has seen firsthand how effective integrative medicine treatment can help patients who suffer from pain. Dr. Paul received his MD degree at the age of 23 and is a Diplomate of the American Board of Family Practice. He also serves as Integrative Hospital Associates medical liaison.
He was an instructor of medicine at SUNY Buffalo and was the developer the family practice residency program at St. Luke Hospital in Ohio. He is currently the Medical Director of American Medical Management. Dr. Denny works with Dr. Paul to manage patients with chronic pain.
---
Ron Tawfik, DC
Dr. Tawfik, holds a doctoral degree in Chiropractic from the Los Angeles College of Chiropractic, and specializes in many areas including personal injury management as well as wellness. Dr. Tawfik has been in practice for more than 20 years now and has extensive clinical experience.
Dr. Tawfik treats spinal conditions that can occur from poor lifestyle or from injuries which can occur from motor vehicle accidents, slip and falls, and sporting activities. He also specializes in the management of musculoskeletal pain affecting all the joints of the body as well as the management of myofascial pain syndrome, and degenerative spinal conditions. If you have any questions, or would like to learn more about Dr. Tawfik and chiropractic care, please call (954) 473-8925 or call him directly at (954) 547-8223.